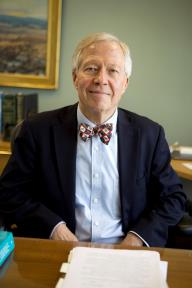 Keith Tokerud focuses his practice on helping clients protect their families and their wealth and helping his business-owner clients plan for the most important financial event of their lives: the transition out of their business.
Keith is a member of WealthCounsel, a national consortium of estate planning attorneys, the State Bar of Montana's Trust and Estates section and the Cascade County Estate Planning Council.
Born and raised in Great Falls, Keith earned a bachelor's degree in Russian Studies, magna cum laude, from the University of Pennsylvania.  He obtained his law degree from the University of Michigan and initially practiced corporate and securities law in Houston, Texas.  When Keith returned to Montana, he worked as a trial lawyer with the Great Falls law firm of Jardine, Stephenson, Blewett & Weaver before joining his father-in-law, Bill Scott, to form Scott & Tokerud in 1986.
Keith has been active in public service.  In 2009 he received the State Bar of Montana's Neil Haight Pro Bono Award for his fourteen years of work to obtain political asylum for a political dissident from the Soviet Union.
Keith has served as chairman of the board of the Great Falls Chamber of Commerce and Big Brothers and Big Sisters of Great Falls.  He also served on the boards of the Benefis Healthcare Foundation, United Way of Cascade County, Sister Cities of Great Falls and the Montana/Kazakhstan Exchange Project.
Keith plays the clarinet and saxophone and has been a member of the Great Falls Symphony as well as the Harold Nicholls Big Band. Keith is fluent in Russian.  His interests extend from building democracy in Russia to pheasant hunting.