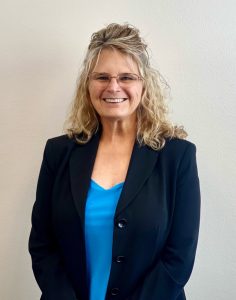 Chris serves the firm by greeting clients at the front desk, providing general legal assistant services, and is part of the Funding Team.
Chris was born in Great Falls and raised on Belt Creek, attending, and graduating from, Belt Valley High School. She went on to attend the College of Great Falls, earning a degree in Business Administration, with a minor in Sociology. Chris managed a locally owned business for 16 years, giving her a background in both business and client services. She comes to Scott, Tokerud & McCarty, P.C., with strong farming and ranching insight.
She now lives in Cascade with her husband and spends as much time as possible nurturing her new passion – raising and training horses. Chris' son and daughter-in-law are both missionary leaders in a Christian organization, Campus Crusades for Christ, on two Oregon campuses. She is now enjoying 4 grandchildren!