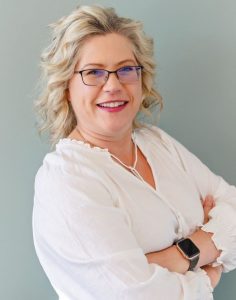 Jeanne serves the firm by assisting with the Estate and Trust Administration processes, Guardianship process, and providing general legal assistant services.
Jeanne was last employed with Scott, Tokerud & McCarty, P.C. from 2010 – 2017, and has recently returned to work at the firm.
She has worked in the legal field since 1994. Our clients come to our office during some of the most difficult moments in their lives, and Jeanne enjoys bringing a feeling of relief, calmness, and reassurance that everything is going to be alright. Jeanne works very hard at making sure our clients are very well taken care for whatever may bring them to our office.
Jeanne and her husband own two businesses here in Great Falls. They have three children, with all but one having graduated from college. Her remaining child is starting his junior year at Great Falls Central Catholic High School. Jeanne has two dogs, which are her everything, a white English Labrador, and a French Bulldog (Audi and Tesla). Jeanne's weekends are mainly spent watching her youngest son race sprint cars or coaching the Charles M. Russell Wrangler dance team. Jeanne and her husband are very involved in the community and enjoy going on motorcycle rides. Montana has some of the best scenery!
Jeanne is looking forward to re-establishing with our existing clients and meeting new clients.