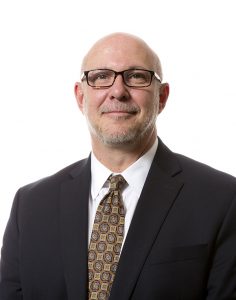 Jon has been serving clients and their families for 30 years. Since joining the firm in 1992, Jon's practice has focused on estate planning, estate and trust administration and special needs planning.
Jon is a member of WealthCounsel, ElderCounsel and the National Academy of Elder Law Attorneys, which are national organizations of estate planning and elder law attorneys. He chaired the State Bar of Montana's Elderly Assistance Committee, co-authoring the Handbook for Guardians and Conservators.
Jon has been active in the community. He has served as a member and as president of both the Great Falls Lions Club and Children's Museum of Montana. He has also served as President of the Cascade County Estate Planning Council. In addition, Jon has served as a Commissioner for the Great Falls Housing Authority and as a member of the Board of Directors of the Montana School for the Deaf and Blind Foundation and the Great Falls Public Schools Foundation. He currently serves as a member of the Board of Directors of the Benefis Health System Foundation.
Jon grew up in Hamilton, Montana. He attended the University of Montana, receiving his B.S. with honors in 1986 and his J.D. with honors in 1990. Before joining the firm, he gained valuable experience as a law clerk at the Montana Supreme Court.
For fun, Jon enjoys spending time with his wife Rhonda and visiting their two children. He also enjoys reading, gardening and biking. Jon and his small group of biking friends have experienced the thrill and accomplishment of biking the entire length of the Going to the Sun Road each year for the past several years.